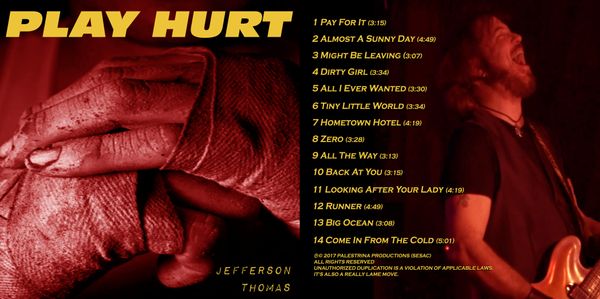 Fresh off another romp through the US, UK, Germany, The Netherlands, and Denmark in 2017, Jefferson took fourteen of the new songs he'd been playing every night and molded them into PLAY HURT.
Jefferson has always done his best writing while traveling. "When you're on the road, there's just something that liberates your mind from all the day-to-day domestic crap," he explains.
He penned "Might Be Leaving" in his van in the parking lot of a venue after the soundcheck and went right out and played it in the show before it was really even finished. "Hometown Hotel" came to him while parked in a vacant lot by the old abandoned house he grew up in, where he'd first grabbed one of his father's guitars at the tender age of nine, and much of the song's video ended up being shot there as well. Still another - "Pay For it" - came together just after a particularly raucous show in front of "a thousand drunken college kids."